We would like to give you a warm welcome at «Intos Apartments» and at our beautiful seaside village of Agios Nikolaos. Agios Nikolaos is a small seaside, peaceful and traditional village that it was built in 1925 by Greek immigrants of Asia Minor.
Our Apartments in Agios Nikolaos
Authentic Greek Hospitality and Service
Intos Apartments is a family owned and managed hospitality business. Our sole aim is to offer you our most wholehearted best and the experience of an authentic Greek, family hospitality. Intos Apartments are located next to the village's central square and the Church of Agios Nikolaos and 3km away from the village's famous kite surfing beach of Agios Ioannis. Every year hundreds of fans of kitesurfing arrive at Agios Ioannis to enjoy the sport.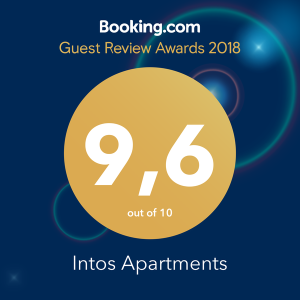 Ideal destination for Kitesurf
Unique location: just next to the Ionian Island, Aitoloacarnania, and Epirus!
The Apartments are located on the National Road of Amfilochia-Lefkada at a distance of 10 km from Lefkas-town, 10 km from Vónitsa, 10km from Preveza and 8km from the International Airport of Preveza-Actio and the Cleopatra Marina (in Preveza).  Intos Apartments privileged central location allows the visitor easy access to every attraction that the Ionian Pelagos, Aitoloacarnania, and Epirus have to offer.